With some friends, we are hosting a panel for PC lovers at PAX WEST on September 2nd, 2018 – 8 PM in the CAT Theatre. The panel is free and open to everyone attending PAX WEST and I do recommend you guys to join us – it's going to be epic!
PC BUILD Fight
After hosting a Panel at PAX WEST 2017 discussing the evolution of the PC Hardware industry, we wanted to make something special and fun that will be based more on the community.
PC BUILD Fight is a new concept where our panelists' teams build the gaming PC YOU want, all this while answering your questions about games performances and PC Hardware.
For the first ever PC Build Fight we have teamed up with a lot of sponsors to provide a wide range of hardware to choose from.
Panelists
Your favorite team of streamers and Tech-tubers will face each other into this first edition. We reserve some surprise guest for the panel, be sure to follow @overclockingtv on twitter and on OverClocking-TV facebook page to get some hints!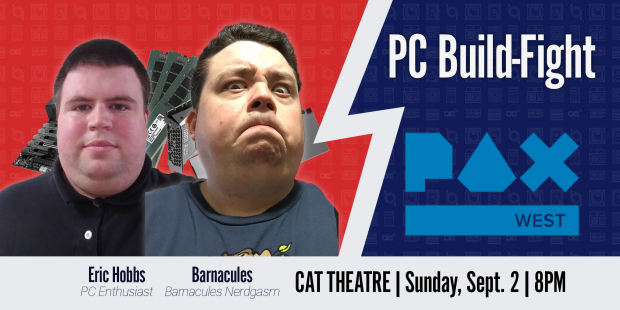 The panel is moderated by OverClocking-TV's Crew member Trouffman, you can be sure there will be some memes and jokes dropping in during the panel.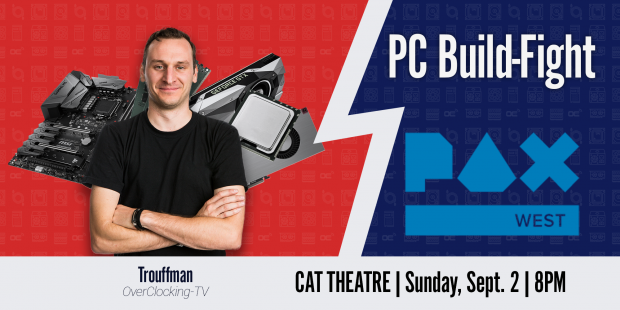 What to expect?
A lot of fun, a lot of noise and obviously a lot of hardware!
We have teamed up with the best brand in the industry to provide some awesome hardware from Be Quiet!, GIGABYTE Aorus, Cooler Master, EVGA, Patriot Memory, HyperX, Intel and more!
Last minute update!
There will be a World Premiere Showcase at the Panel and giveaway!
We will see you on Sunday, September 2nd at 8PM (PST) in the CAT Theatre at PAX WEST.